Cut surface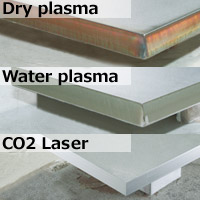 ●Dry plasma: glossy and clean on cut surface. It can be cut up to a thickness of 150t.

●Water plasma: distortion and shrinkage is small. Clean finish and its cut surface does not change black.

●CO2 laser: narrow beam diameter than the plasma, it can be cut with high precision.